The second Auction batch extended to July 5th. The expired premium domains marketplace expands Eco-System Of .PK Domains.
The following, and more, premium domains are available in auction or on a first come first served basis. You can participate to register them as per posted dates below. Click on the domain cloud below for more information.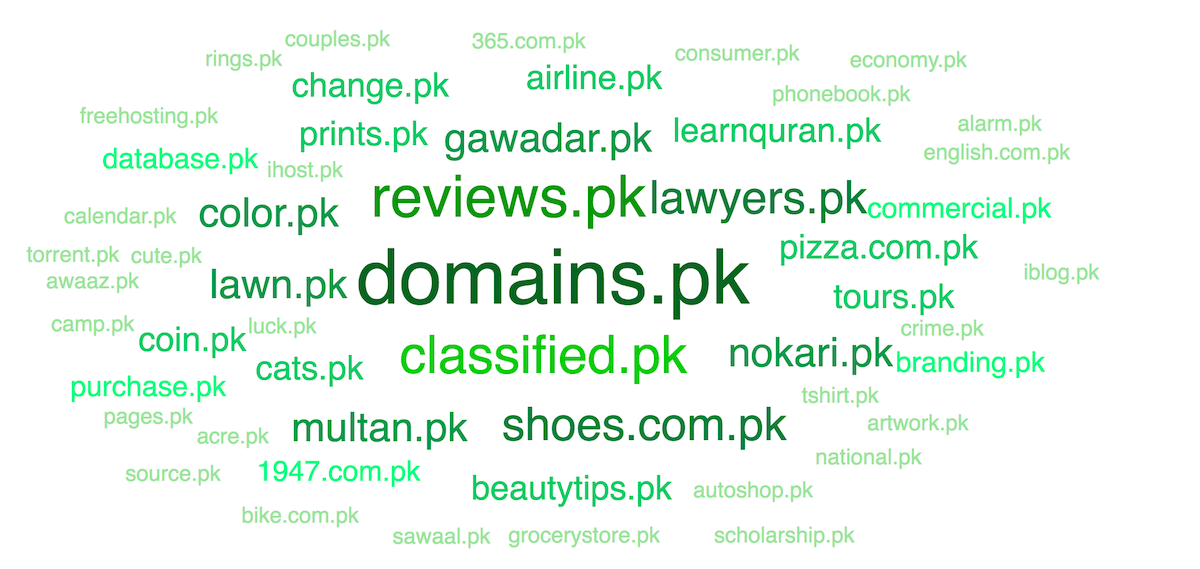 These are premium expired domains that have higher than average value, based on standard industry domain name weightage and feedback.
The auction domains can be bid on from the Auction listing page. Auction started at 12pm noon June 23rd, 2017 (Pakistan Time). Due to Eid Holidays and long weekend, this Auction Batch has been extended to July 5th.
First Come First Served Basis (Normal Registration). The non-Auction domains in this batch are released on a first come first served basis as normal registration process starting at 12pm noon (Pakistan Time) June 30th, 2017.
What are Premium (Expired) Domains?
We have received a lot of feedback that many valuable expired domains are being registered disproportionately by the same few users, who employ sophisticated techniques and possibly scripts to beat other users in the current, race against time, domain registration method for expired domains. Apparently average user has less chance to be successful in getting high interest domains in this process, compared to those who are dedicating lots of time and effort, and had have prior experience to optimize their network.
To level the playing field for the average user we have added optional alternate registration methods, should they choose to use them. We strive to make these registration methods transparent and accessible to all.
Note: The first come first served registration method is fine for regular domains, and it becomes a problem only when the exact time of release of expired domains is published ahead of time, as per requirements. In that case, a fraction of a second delay, or even slow network latency for some client, can become a factor in unsuccessful domain registration.

About PKNIC
PKNIC has worked for the last nearly 25 years with local Internet service providers, web hosts, web design companies, and a range of resellers to help develop a healthy market for .PK domains. It aims to work closely with the expanded new team of resellers and channel partners to expand the range of services available to Pakistan and global users of .PK domains.
Media and other inquiries may be submitted to staff@pknic.net.pk .